Peter Buley
Experience Designer
Product Configurator
Exploring the nuanced space of semi-bespoke design
The Problem
The configurator project explored the potential of a product co-creation platform for small studios that make bespoke (or customized) items.
One of the major points of friction for semi-bespoke production is the back and forth communication process inherent during customization. It's one of the primary reasons most studios shun customization. Yet once a designer/studio has created a successful product eventually potential clients always request customized versions. A co-creation platform utilizing digital visualization solutions has the potential for smaller studios to expand both their audience and efficiency.
User & Audience
The user of a configurator could be interior designers, homeowners, architects, and product designers/studios. As such, I conducted research in each of said categories. To develop a more realistic prototype I focused on the Dovetail Bench by Analog Modern but conducted additional research with a number of other NYC studios and their clients.

Roles & Responsibility
I was the sole researcher and UX/UI designer on this endeavor. I'm grateful to all the interior designers, architects, former clients, and studios that participated.

Scope & Constraints
This project was a one-month self-scoped endeavor. I used various computer-aided design (CAD) software such as SketchUp and Rhino to create 3D models and also tested a number of augmented reality (AR) viewers to come up with a prototype of the experience. After a positive response from some of the designers and studios, I'm working on an MVP version utilizing some existing platforms such as ShapeDiver for customization and SketchUp Viewer and/or Kubity for Augmented Reality. Overall I believe there is an app to be made and a business model here, but I have yet to explore any funding options.
Process & What I Worked On
Interviews
I interviewed five product designers/studios, four previous clients, and seven interior designers/architects. All had past experience with customization so we started by reviewing a previous purchase experience and then expanded into how it could go better in the future. The clients and the studios had more than a few overlapping pain points.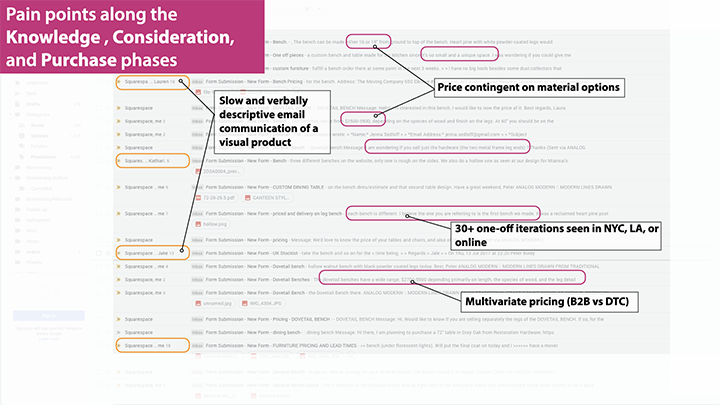 Email Analysis
I combed through hundreds of email requests searching for clues, tracking the number of required follow-ups, and even reaching out to a number of clients that decided not to go forward with the purchase. This research highlighted the need for both pricing clarity and better response speed. Pricing a custom product is extremely complicated and the more options (in this case, species and sizing) available only increased this variability.
User Journey
I mapped out the users' steps (both from the perspective of an interior designer/architect and homeowner). Studios are used to dealing with a tiered pricing system and this was also reflective of a regular vs trade pricing customer journey. Considering the end-to-end journey led to identifying some purchase and post-purchase enhancements that could be easily implemented.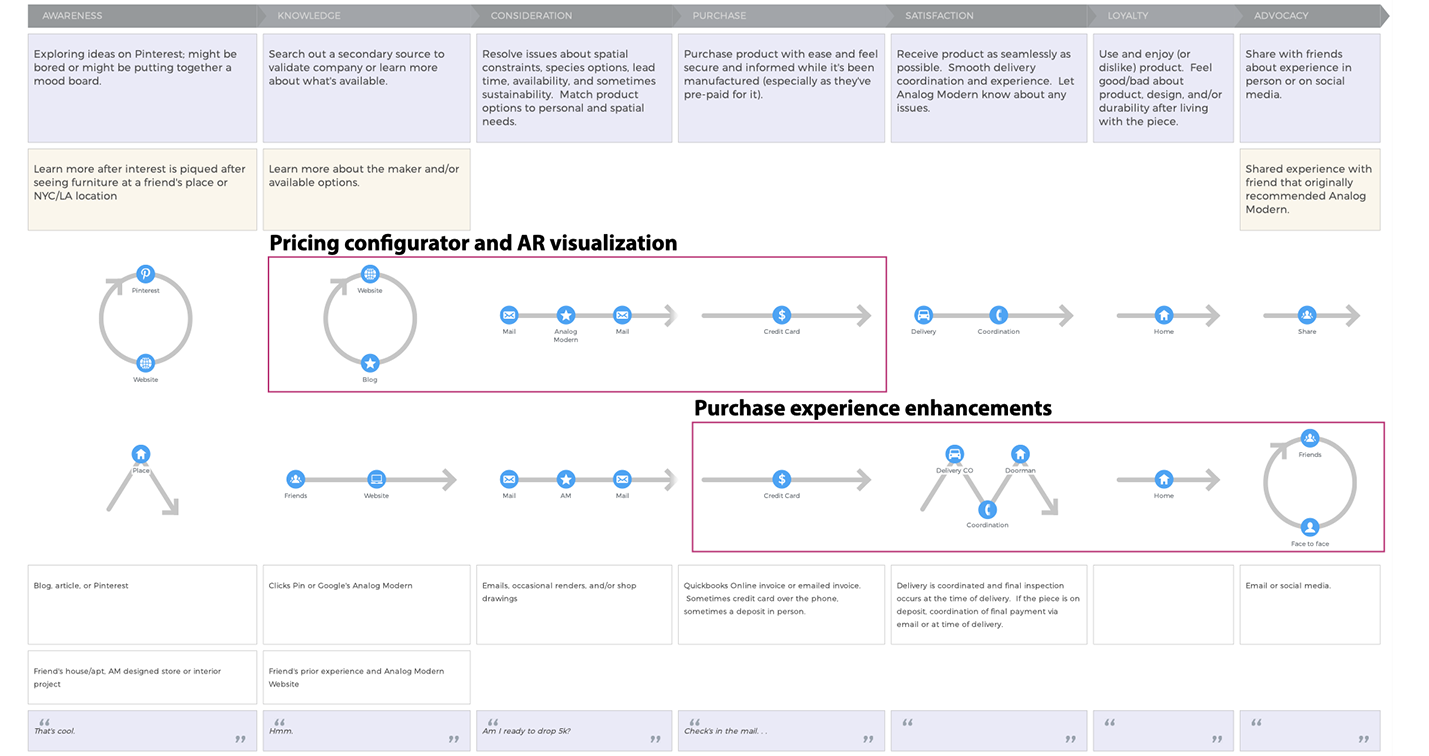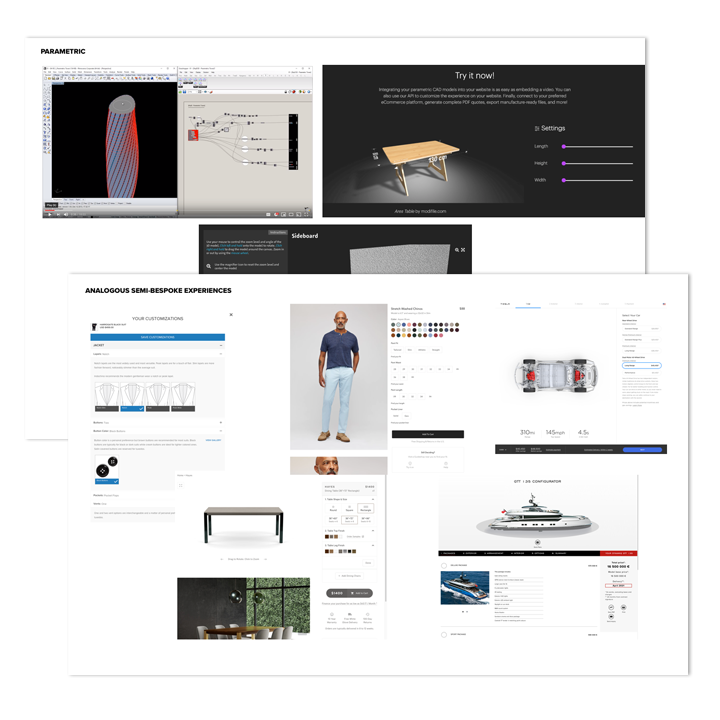 Competitive Research
Exploring the landscape of online customization I cast a wide net auditing tailored clothing, motorcycles, vehicles, kitchens, and even yachts. The best experiences were deceptively simple, subtly containing a wide array of configuration options.
I presented these mood board layouts to a few designers as we discussed their previous experiences using configurators and compared them to their experiences using phone/email to communicate customization preferences.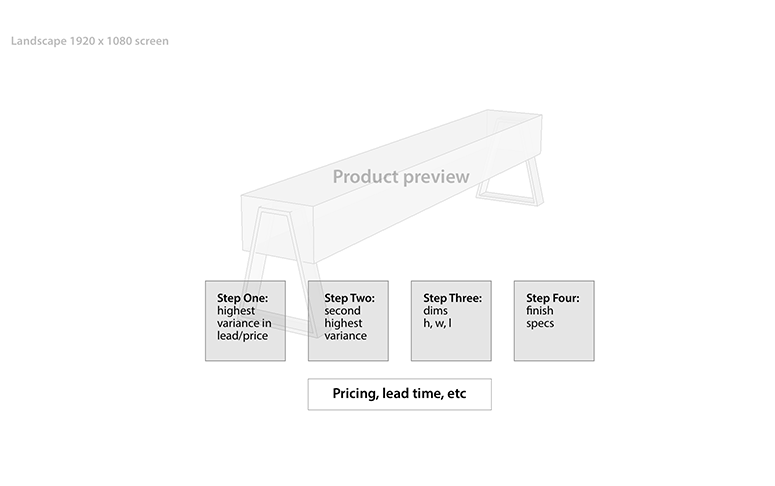 Wireframes
Wood species and length being the biggest variants in time/price and after hearing feedback on rapidly reducing variabilities, I used Sketch to start to put together a wireframe reflecting what I had found to be the quickest path to a concise price and lead time. Originally I started with four steps but ended up with five for the bench. The number of steps would vary based on product complexity and the depth of customizable options.

I was also able to print this out and use it as a paper prototype. This led to some quick insights helping me define the menu items and sequence.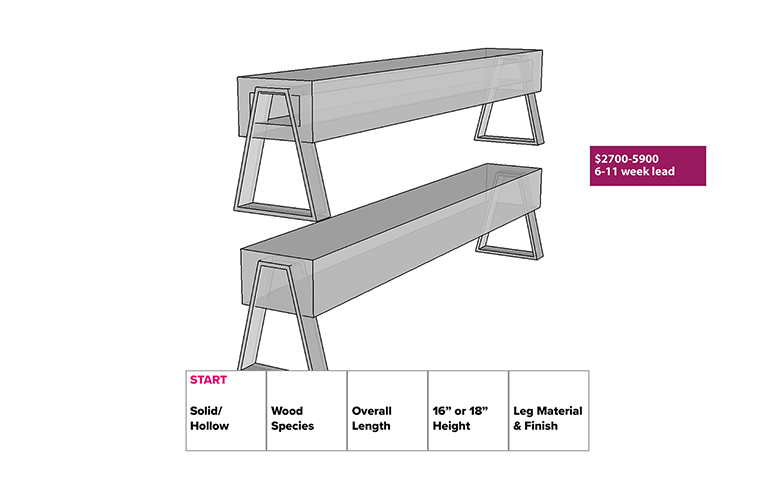 UI Design
Over 90% of the interviewees said they made highly considered purchases on a computer vs a phone so I designed with large landscape orientation in mind. After the piece is customized the client can be sent a model and view it on an AR application on their phone. The two AR apps (SketchUp Viewer and Kubity Go) that I tested also only work in landscape orientation.
A small break in the user flow between the customization platform and AR viewer allowed for a lead capture opportunity as well. Ideally, the parametric design platform could be powerful enough to generate an AR model but this stopping point allowed the studios to obtain useful contact information.
I was able to send a few testers both a clickable flow in Overflow and a 3D model that they could add to their SketchUp Viewer. SketchUp viewer is an application that users need to purchase and is not at all seamless, but this video imagines a more straightforward flow from the configurator directly into an AR viewer. The actual purchase would be made online (outside of the AR viewer) where the buyer could confirm dimensions, price, and lead time.
Takeaways
AR is a very useful but also a distracting technology. I had a difficult time getting much actionable feedback from the participants as they seemed wowed by the AR viewer itself. Months later, I attended a UXR Conference and found some solace to hear UX researchers from the HoloLens2 team had the same sentiment. Next time, I would send a 3D model of a known mass-market design and have the participants explore the AR viewer with a familiar object first, and then follow up with the customized design.
Another interface option that occurred to me post-testing was a price-based version. With a large variance in price, it could be an interesting way to show users what was available at the highest or lowest ends of the spectrum.